Love Dance Festival is organized by Love Dance Academy:
Luis Vazquez - founder & organizer, festival director, artistic director, communication
Weronika Pilat - founder & organizer, festival director, website, PR, marketing, economy, e-mail communication, online registration
Love Dance Academy
In 2010 Luis Vazquez moved to Malmö where he is running Love Dance Academy together with Weronika Pilat. With his creativity and passion for the dance, Luis wants to inspire people to reach and exceed their dancing boundaries. His aura, personality and vibrant energy are contagious. Besides weekly dance lessons, Luis and Weronika are the founders and organizers of the 1st and 2nd edition of Love Dance Festival in Malmö, Sweden.
Love Dance Festival
Love Dance Festival 2014 is the 2nd international dance festival in Malmö Sweden. It is an annual event where people from all over the world will meet to share the same love and passion for dancing. A festival with international instructors and DJ's, workshops and shows of highest standards, high level of dancing, magical atmosphere and last but not least – great parties at a fantastic venue. Some of the best instructors in the world will teach, perform and entertain, as well as be part of the social dancing. A festival organized by Luis Vazquez, so for sure it will be "crazy fun"!
The team
All the team members are students at Love Dance Academy. They are organizing the festival and they will make sure that everything will run smoothly during the event. We are very proud of them because they made a great contribution at the first editon. They were always organized and professional.
Our mission
Love Dance Festival is all about LOVE. Love for dance and music in a familiar environment – no matter dance style and level. The organization and staff will make you feel welcome. We will maintain and improve the high quality of sound, floor, music, lightening and services. Our goal is to bring artists that will fit into the concept of love. They are also chosen for their great DJ'ing, teaching skills and amazing performances.

A festival made by dancers – for dancers
Weronika Pilat & Luis Vazquez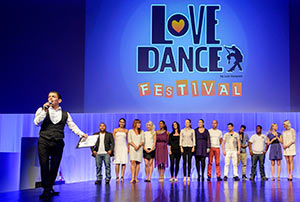 The team of Love Dance Festival