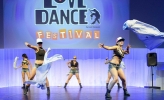 Performance Teams: "Reggaeton Pro Team", "Salsa Pro Team" and "Bachata Pro Team". 
Fabian & Nicolina are runing the biggest Latin dance school in the west of Sweden with over 300 students. In Dance Vida Academy they are teaching Salsa (LA Style & Cuban Style) Bachata, WCS, Reggaeton, Body Isolation, Ladie's Styling and more.
Three of their "Performance teams" will perform at LDF 2013.