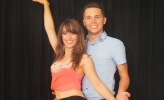 Sabine Boesen is from Denmark and she is the founder of her own dance school Salsabine Dance Studio / Salsabine.dk which she has been running since 2005. Salsabine Dance Studio specialises in Salsa On1, Mambo On2 and Bachata. Also teaching Salsa Lady Styling, Spin technique, Musicality and Cha-Cha-Cha. Salsabine Dance Studio in Denmark is wellknown for their high level of dance technique, great teaching skills and Sabine's passion and dedication for Salsa that shines through in the spirit of the dance school.
Sabine Boesen started dancing Salsa in 1999 and has won several gold and silver medals in both Danish and Scandinavian championships in Salsa and Bachata. She is also dancing and has been teaching Cuban Salsa and is a certified Zumba instructor. Furthermore she has been dancing other styles such as jazz, hip hop/freestyle, Reggaeton, Kizomba, and Zouk. Sabine has formed her career for Salsa by taking classes with the most famous teachers around the world, in both NYC, Puerto Rico and at the biggest Salsa Congresses around the world.
Robert Csaki has been teaching with Sabine at Salsabine Dance Studio since 2012.