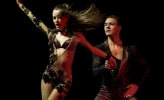 Andrea and Silvia are specialized in bachata and in December 2012 they became World Champions in World Latin Dance Cup (Miami) organized by Albert Torres in Couple division and also in Team division with your group. In December 2013 they won the world championship in the Bachata Division once again.
Andrea and Silvia know each other since 2008 and until 2010 they were danicng in the group "Latingroove Dancers". Then they decided to continue on their own way as a couple and they created their own choreography in order to set up their talents, energy and creativity.
From Andrea's energy and Silvia's elegance a new dance style rises. It immediately meets with outstanding success in audience and important results during competitions. They carry on their studies to improve their technique, with international dancing masters. In september 2012 they founded their bachata team composed with four other professional dancers: "Extravagance Dance Company".
Andrea born on 9th of September 1985, have been performing since he was a child, a very good predisposition in every sport. As a result, he obtains the licence of swimming instructor and then he enters the football career till joining high levels. At the age of  11, he approaches the world of dancing, attending some courses of Contemporary and Jazz dance. In 2007 he decided to dedicate himself to Caribbean Dance, leaving Football for good.
Silvia born on 20th of March 1989) moves her first steps in dancing at 3. At the age of 12, she was selected to take part in the prestigious "Accademia Coreutica" of The Teatro Nuovo in Turin, training with internationals masters as classical and contemporary dancer. In 2006 she enters the world of Latin and Caribbean Dance.
COMPETITIONS
- First place Bachata Cabaret WORLD LATIN DANCE CUP 2013 (Miam - U.S.A.)
- First place Bachata Couple WORLD LATIN DANCE CUP 2012 (Miam - U.S.A.)
- First place Bachata Team WORLD LATIN DANCE CUP 2012 (Miami - U.S.A.)
- Second place: WORLD BACHATA MASTERS 2012 (Spain)
- Finalist at WORLD LATIN DANCE CUP 2011 (5th) (Las Vegas - U.S.A)
- Second place: INTERNACIONAL BACHATA OPEN DE ESPAÑA 2011 (Spain)
- First place: qualifying World Latin Dance Cup LIMBURG SALSA FESTIVAL 2011 (Netherlands)
- First place: Stargate SALSA ADDICTED FESTIVAL 2011 (Romania)
- Second place: Competition R-STYLE 2010 (Spain)
- First place: 1° SAVONA SALSA CONTEST 2010 (Italy)
- Second place: qualifying Mayan Dance Competition AL SON D'ELX 2010 (Spain)
- First place: European Coreography Contest, ROMA SALSA FESTIVAL 2009 (Italy)