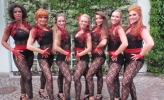 Luis Vazquez is an Instructor, Choreographer, Performer and Master of Ceremonies from Guadalajara, Mexico. He moved to Los Angeles California and began dancing in 1992. He is one of the pioneers of the popular LA salsa style together with his brothers Johnny Vazquez and Francisco Vazquez. Luis has been travelling to more than one hundred countries to participate in dance festivals and appeared in television shows, commercials, music videos, movies and he have worked with artists such as John Travolta, Jennifer Lopez, Vanessa Williams, Jimmy Smith and Quincy Jones.
His creativity in music, costumes, routines and stunts has taken showmanship to the next level as well as paved the way for many other dancers. He was one of the first choreographers that created shows with costumes and steps that people never seen before. He changed the salsa scene completely.
In 2010 Luis moved to Malmö where he is running Love Dance Academy together with Weronika Pilat. With his creativity and passion for the dance, Luis wants to inspire people to reach and exceed their dancing boundaries. His aura, personality and vibrant energy are contagious. Besides weekly dance lessons, Luis and Weronika are the founders and organizers of Love Dance Festival in Malmö, Sweden. Luis wants to share his experience and love for the dance with you!
Choreographies
2011 - Couples Performance Class: Big Spender
2012 - Couples Performance Class: Beautiful
2013 - Couples Performance Class: Incondicional
2014 - Ladies Perormance Class: Watermelon Man