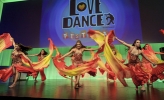 Performance Teams: "Bellasitas" and "Obsession".
Malmoe Danceacademy is the biggest danceschool in southern Sweden. We offer over 60 dance lessons every week with 25 professional dance teachers.
Our Dance Academy is fully booked all year round with dance lessons, hen-parties, shows, workshops, private lessons, school events and other events. We offer every dancestyle there is and our quality is of the highest standard with professional & energetic instructors!
Affordable!
Thanks to our incredible discounts, you can now attend to several dance courses at the same price as one dance course offered by other local danceschools! We also offer "drop-in" with discount cards for those who can not attend weekly, but want to dance when it suits them best. For the ones that want to dance as much as theyd like throughout the semester, we offer VIP cards with unlimited access to the entire schedule.
Examples of our dancestyles:
Zumba Fitness, Ghetto Stiletto, Popping / Locking, Breakdance, Commercial Jazz, AcroYoga, Stretch 4 Dance, spinning technique, Booty Camp, Children, The Pussycat Dolls, Latin Ballroom Dancing, Pole Dance, Striptease Aerobics, Modern Broadway Show Jazz, Lindy Hop, Bugg , Bachata, Chacha, Street dance, Oriental Belly dance, Bollywood dance, Persian dance, Salsa, Night Club, Samba, Reggaeton, Dancehall, Classical Ballet, Afro Power Dance, Burlesque & Chair Dance, Modern Ballet, Cheerleading, House and Rhythmic Gymnastics.
Malmoe Dance Academy has courses for all ages, from beginners to advanced level! Our goal is for everyone to be able to feel the joy of expressing themselves through the art of dancing.
Regardless of age, gender and experience, you are welcome to dance with us!
We also have a showgroup that you can participate in given that you audition for it. Participants in the showgroup learn many dance styles by training several times a week.
Professional dance teachers
Our dance teachers regularly participate in workshops and educations on the highest level so that they can offer the absolute best standard.
That is because they constantly update themselves in the wonderful world of dance and therefore they will give you the best dance training there is!
Malmoe Dancecademy Where youll never stop dancing!