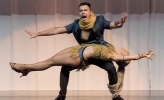 Nando & Susie are from SalsaAkademien in Stockholm. The Swedish SalsaAcademy is one of the oldest and most established dance studio's in Scandinavia. It is mostly recognized across the Nordic salsa scene for its teaching methods and unique syllabus, which together with high quality performances has given many instructors and dancers the opportunity to travel to represent the studio, their city and Sweden, in TV-shows, corporate events, national and international festivals, salsa congresses, etc.The founders of the studio have danced together since 2000 and are also co-creators of the renowned Club Latino Dance Company and Sacuye Latin Dancers, who performed regularly at many prestigious salsa events around the world. The SalsaAcademy regularly arranges workshops and parties and runs Sweden's oldest weekly social (since 2003) which is highly appreciated by students, dancers and visitors. Come see us next time you are in Stockholm!
Nando is a considered salsa dancer from Bogota, Colombia, with more than ten years of experience from performing and teaching salsa. Among other accomplishments he has qualified to the Puerto Rico Salsa Congress and he is a two time finalist of the World Salsa Championship in Cali, Colombia. In 2011 he moved to Stockholm, Sweden to spread his knowledge, discipline and foremost his passion for salsa music and Latin dance, especially the Colombian style salsa!
Susie has been seen on dance floors all over Europe for the last several years and she is a well known salsa teacher in Stockholm, Sweden. Her style is mostly characterized by her playfulness and interpretation of the music. In her classes she likes to focus on expression, musicality and body movement. She also loves to share the passion she has for the Latin music. 
On stage, Nando and Susie create an exciting mix of speed and power of the Colombian style salsa influenced by both jazz and street dance.
"Dance for us is a way of living and a universal language that connects people"