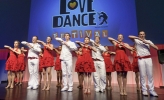 Salsa Sabrosa Danceschool in the south of Sweden was founded by Robin and Lisa in 2000. The school now have 20 teachers with 30 ongoing courses and over 400 students in the cities of Lund and Malmö. Robin and Lisa have produced two Salsa instruction DVD:s and Salsa Rhythm CD:s both on1 and on2.
The school embraces and teaches all Salsa styles and also other dances like Reggaeton, African dance and Samba. They try to give their students a broad repertoire that will work just as well in Sweden as in, lets say, Latin America or New York or wherever you would want to dance.
Lisa has been dancing Jazz since the age of ten. In 1998 she started with Salsa. Robin has been dancing Street dance, Disco, Foxtrot, Waltz and Tango, and he too started with Salsa in 1998. They both love to work with body movement/technique in combination with movement across the dance floor. Another detail always in focus is timing. Their main goal with their efforts is to try to give joy, spontaneity, energy, companionship and body knowledge to people wherever they go.