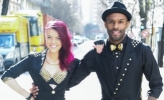 Tony Pirata is not only the Kizomba Champion of France, but also 3rd in the European championship in 2010. Tony pirata is "the face" of kizomba in France. 
Born in Portugal but of Cape Verdean origin, Tony Pirata grew up in Lisbon until his family settled down in France. He was 16 when he began to dance with an equal passion for Kizomba, Semba and Kuduro. 
Kizomba and Semba however got the upper hand. More fascinated than ever, he became the 1st to teach in France. He makes these dances his own by inventing new techniques and adding his individual steps into the standard basics. 
Enriched by his numerous journeys around the globe, his dance is more diversified, intense and innovative. His exceptional style and his incredible charisma makes him the best of Kizomba.
Sophie Fox was born and raised in England and began dancing hip hop at the age of 11 but quickly explored other genres and by the age of 13 she had discovered a love for Latin dance and began dancing ballroom. 
Her talent was evident to the Latin scene in England and by the age of 16 she became involved with a Salsa school in her home city and soon she was established as one of the school's teachers. At this time Sophie also began to study contemporary & the theory of dance in her college. 
As Kizomba began to gain prominence in the UK, in 2008 Sophie discovered her real passion and attended her first Kizomba festival in Lisbon where she first met Tony Pirata. 
Since then, Sophie's unique British style has come to the attention of many in the Kizomba scene – including the renowned Tony Pirata, and has recently become his profesional dance partner and now living in Paris.