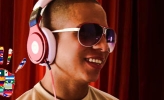 DJ Jesus has nearly 18 years of experience playing salsa and Latin music which led him to be one of the most recognized DJs in Sweden and other parts of Europe.
DJ Jesus was born in Colombia where the influence of salsa and Latin music was a big part of his childhood.
In 1993 when he moved to Sweden, he start to study the salsa background and dedicated a lot of time to get more knowledge about salsa,
his salsa collection is large and can deliver the best of all salsa styles.
His goal is to please the crowd, giving the public his great repertoire and quality salsa music. Wherever DJ Jesus plays - good music will always be guaranteed!