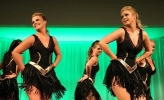 Edda, a black belt in karate, competed with the Icelandic national team  for 10 years placing at the top on numerous occations internationally. She held the title of Icelandic champion for 12 executive years until leaving the competitive world, undefeated, ranking the single most succesful competitor in the history of Icelandic karate.
She got to know and love salsa during her frequent travels and founded SalsaIceland in 2003. Since then she has been devoted to building a salsa community in Reykjavik in close cooperation with the Salsa Academy in Stockholm. Together  they have developed SalsaIceland which today offers salsacourses in all styles of salsa on 6 different levels. Although Edda has traveled extensively to study salsa and other dances she credits Marina Prada and Ibirocay Regueira to be her main teachers.
As a physiotherapist, karate teacher and salsa instructor, Edda has now been teaching professionally for over 20 years. Her lively attitude, structurized pedagogical approach, ambition and love for salsa make her a very popular teacher.
Thanks to Edda's vast experience in martial arts and her extensive dance training  she can adapt to any style and yet still create her own unique blend, which ranges from smooth afro-cuban essence to explosive LA-style, On2, son, etc. It doesn't really matter what type of latin dance she does, however  she has soft spot for jazzy chacha's. Edda is a personality you won't miss on the dance floor, always smiling, laughing and giving everything to the music when she moves. Even though Edda's style is diverse, her trademark is obvious and infectious. Expression in it's rawest form is just something that comes natural to her and you can't help but getting drawn into it when you see her dance.
Ólafur is a former international competitor in standard and latin ballroom dancing and holds many medals. In 2003 he got to introduced to salsa and immediately started travelling and take workshops to integrate salsa into his dancing skills. He dances every style of salsa and has been one of SalsaIceland's main instructors since 2008, in addition to co-own the school.
Ólafur is well known and appreciated among his students for his high quality teaching and ability to draw out the best of his students with a comfortable and laid back approach.  His creativity and ability to break down combinations and put them back together in different forms make him a popular teacher among the advanced students.
Dancing with Óli the ladies are sure to experience a high livel of technical quality, musicality and flow. His vast experience with different dances and long history of dancing gives his dancepartners a secure and comfortable feeling of being protected on the dancefloor. In addition to this, Óli loves to give his partner the freedom to improvice and style to the music without getting sidetracked in his dancing.
Edda and Óli are looking forward to meeting the salseros and salseras at LDF this year to have a wonderful time enjoying dance together!