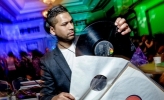 Latin vinyl DJ, collector, audio engineer, producer, compiler, re-mixer, musician and founder-director of www.salsamixes.com began spinning vinyl records in 1996.
Today Duste specializes in Latin music and is always on the prowl for Afro-Cuban sounds in all colours and assortments, hunting them under any rock and crevice globally. He is one of the few who still prefers to DJ using vinyl records. His site has been posting and presenting vinyl records which continues to have a strong influence to many new and upcoming Dj's and enthusiasts who have also taken on the passion for Latin vinyl & mixes.
Duste was responsible for releasing the compilation "Que Viva La Salsa Dura" which included his famous mixes of Menique's "Manigua", Puente's "Hong Kong Mambo" & Charles Fox's "Blue Mambo" to name a few. He has also recently released his first original composition titled "Reunion" which was released on iTunes in 2012.
Duste aims to play tunes that are dance floor friendly however at the same time perhaps not known to the commercial salsa listener. Usually his aim is to also educate the audience in an evening taking them on a journey through his voodoo selections. His most recent mission consists of blogging other Dj's on his website presenting their Latin vinyl mixes. This project has been running only since June 2013 and already has thousands of listeners on board including the Dj's and collectors who have and are contributing to continue to help the mission of promoting Latin music on vinyl records.
If you have the opportunity to catch Duste spin one day, make sure to drop by the DJ box and say hello as he loves to share the knowledge and promote Latin music to others alike.