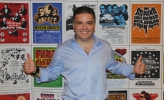 International Latin DJ from Turkey.
Burak Ürgen, aka DJ Fox, started DJ'ing nine years ago, because he got this passion for the latin music that he wanted to share with other dancers. He is in a never-ending quest to bring an exciting new song or an old gem to the dance floor. He wants to move people to dance, feel the music and enjoy the passion of this amazing music.
DJ Fox have been playing in major clubs all over Turkey. He also produced one and only latin music program in Radio 5 Turkey between 2008 and 2009. He performed in different special festivals, carnavals and concerts like Buena Vista, Omara Portuondo, Turkey Dance Fest, Istanbul Dance Fest etc.
He performed at Los Angeles Salsa Congress 2012 and 2013, Boston Salsa Fest 2012, Salsorro Spain 2011, Ukranian Salsa Fest 2011-2012, Rotterdam Salsa Fest 2008 etc.
DJ Fox plays all styles of salsa, bachata, merengue, cha cha, kizomba, zouk and reggaeton.