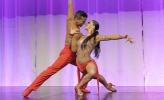 Five times World Champions! These two amazing dancers have represented Spain in various dance competitions winning five World Championships and two sub-championships among others. Anita & Adrian have been headliners many times nationally and internationally.
Anita (from Curibita-Brazil) has a background in classical ballet, contemporary dance and jazz. She has won several international awards along with a scholarship to the prestigious 'Laban Center' in London. She moved to Spain in 2000 and became part of the National ballet of Zaragoza (at that time the only classical company in Spain with worldwide recognition).She has worked on TV with artist such as Francisco Céspedes, King Africa, Rocio Durcal and Rocio Jurado.
Adrian (Montevideo-Uruguay) started playing music at the age of 9 which ended up having a profound impact on his life. He started his passion of dancing with rumba and although being selftaught in the clubs of his home city, he became a known dancer performing on stage within a year. In 2004 he travelled to Barcelona with the intention to live of his passion - Salsa!!! The same year Adrian won the the Spanish Championship and then his career took off. In 2005 he got second position and was invited by the Prince of Salsa Johnny Vazquez to become part of the famous company "Aztec Empire". They travel together for a year for various international events. Undoubtedly Johnny Vazquez and Ramon Morales are fundamental to his formation. The dance company Adrian y Anita was founded in September 2005 when they met in a festival in Tarragona.
They are instructors and dancers for the TV show: Mira quien Baila! And in 2008 were solo dancers for the musical Salsation directed by the famous Broadway choreographer Maria Torres (NY). They have danced for artists such as Oscar de León, Cachao, Eddie Palmieri, Spanish Harlem, Adventure, Gran combo de Puerto Rico and Ricky Martin.
Without doubt Adrian y Anita have made a huge impact and left their mark in the world of latin dance.
Prices:
2009
1st place: Todo Latino World Cup - Greece
2nd place: World Salsa Open - Puerto Rico

2008
1st place: World Salsa Open - Puerto Rico
1st place: Todo Latino World Cup – Greece
Best teachers & Best dance show: TOP DANCE AWARDS - Spain

2007
1st place: World Salsa Open - Puerto Rico
Best teachers: TOP DANCE AWARDS - Spain

2006
2nd place: World Salsa Open - Puerto Rico
1st place: Spain Salsa Open – Spain
1st place: Sweden Salsa Championships - Sweden

2005
2nd place: Spain Salsa Open - Spain (Adrián)

2004
1st place: Spain Salsa Open - Spain (Adrián)