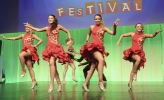 Dance Academy Latina in Kalmar Sweden is a dance school which was started in 2008. The idea of this school is to teach and develop a several dance styles such as: belly dance, flamenco, salsa, samba, bachata, street dance, raga, afro-cuban rumba, etc.
Rigoberto Gadea from Nicaragua and Lejla Crnkic from Bosnia/Sweden will be representing Dance Academy Latina. Rigoberto is instructor and choreographer at Dance Academy Latina. Rigoberto is one of the first dancers and instructors in Sweden to introduce the On2 timing and open shines combinations. He performs and teaches in both On-1 and On-2. He's got a Master's degree in sports pedagogics; he is an international certified Salsa instructor since 2004.He has been teaching latino dances for the last 15 years in the south of Sweden. He has knowledge in classic ballet, flamenco and jazz dance. Rigoberto is very thorough and with sense for technical details. He sees the dancers as a "dynamic sculpture" which is taking shape every second of the choreography. He attempts to take what he likes most from the different styles and structure one of his own.
Lejla Crnkic is dancing salsa, ballet and contemporary. She lives in Cebu City in Philippine Islands and she is a known profile as the initiator of the charity (dance & music) gala "Step by Step", organized annually in Kalmar. Step by Step is an organization working with the charity to help poor and disadvantaged children in Cebu.