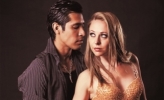 Jairo & Jeanine are young, professional Dancers, Teachers and Choreographers. They are known in Germany and Mexico from TV and Showbusiness. They have danced with many famous artists like Gloria Estefan and worked as choreographers and professional dancers e.g. in "The voice of Mexico" or "La Academia".

Jeanine as well as Jairo are skilled in Jazz, Ballet and Modern. However, their real passion is: Salsa!!

In order to develop their own Salsa style they brought together an elegant dance with "Sabor" and underlined this awesome combination by their great stage presence and their overwhelming charme.

In March 2012 they came to Germany and from there they started to "discover" Europe, showing their Bachata and Salsa shows on international congresses and teaching dance in all its variance.

Their speciality is the extraordinary: combinations of Bachata with Modern Dance, Salsa with traditional mexican folklore or singing salseros it what Jairo & Jeanine stand for.

Learning from Jairo and Jeanine's shines and combos enables you to improve your personal dance style and technique by learning jazz or modern dance elements in Salsa and Bachata lessons.