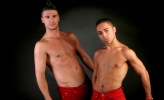 In mid-2011, David de Menes and Javier Padilla come together to create the first Same Gender salsa couple in Spain "David y Javi", an innovative style that combines couple dance moves, with aggressive footwork and acrobatic moves.
At half year, they had done two works, making performances on national stages.
Awards:
- 2nd Place at Campeonato Internacional de Pasos Libres de Salsa 2012 - Barcelona, Spain. May 2012
- 4th Place at Valetodo Concorso 2012 - Vibo Valentia, Italy. Aug 2012.
- 3rd Place at Salsa Men division, World Latin Dance Cup 2012 -Miami, EEUU. Dec 2012.
- 3rd Place at Campeonato Nacional de Salsa 2013 - Gandia, Spain. Feb 2013.